Some of us older folks remember the days when many cars came with whitewalls. The sidewall of the tire had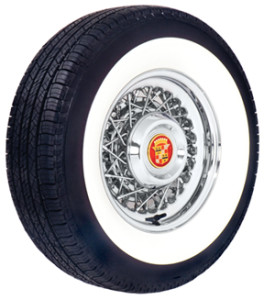 a white rubber strip – some were very wide, 2-½ to 3″ or wider… some were narrow ¾" or so, some had a wide and a narrow strip together and even others were in colored rubber other than white.
Not many know how it is done. The tire manufacturer simply makes a sandwich of black – white – black on the sidewall and then removes the top layer of black to reveal the white below. Check out that final step in this short video.