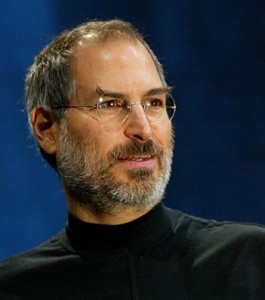 The news of the death of Steve Jobs came as a bit of a surprise until I thought about it for a minute or two. Only a few weeks before he had stepped down as the day to day leader of Apple. I guess he knew his time was growing short.
It has been interesting to read about his life and how he and Woz built Apple, how he was down and how he came back and brought Apple back with a vengeance. His perfectionism but also knowing when to say, "OK it's as good as it can be and we need to sell some".
He taught me to be a better presenter, to rehearse, rehearse, rehearse and to use simple bold slides. Thankfully he'll live on for us on YouTube. His persistance was impressive, he knew what was right and he insisted on it.
Thanks Steve, mostly for your products – I'm an Apple devotee – but also for your style, flair and persistance, sorry to see you go.
Vic Rollins – from the far side of Bangkok