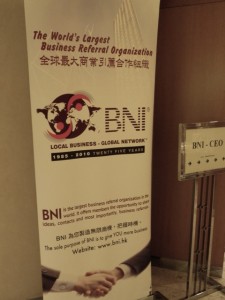 While planning for an upcoming trip to Hong Kong I wanted to include a meeting of the international networking group that I am a member. Since I do not speak Chinese I was somewhat disappointed to learn the only English-speaking chapter meeting while I was in town was having a "closed door" meeting that day, visitors could not attend.
Fortunately someone at the group's head office in Hong Kong intercepted my email and asked if I would like to visit one of the Cantonese speaking groups? My answer, "sure but, I don't speak Chinese". The answer, "Don't worry, come anyway." The payoff?… a fun and upbeat meeting with a whole bunch of interesting people doing business in Hong Kong – exactly what I was looking for.
Thank you to Jeanne Wong, Georgina Shek and Janice Chan for the warm welcomes and introductions around the room. Thanks to Tak and Samuel for the in-meeting translations – keeping me on track.
Who knows, one of these new friends could turn out to be a business partner or I may be able to play a small part in sending business to one of them. Whatever the turnout – making friends and meeting new people is what networking is all about.
So… the next time you are faced with a small disappointment – go with it – it will probably turn out better than you expected.
From Hong Kong, for now… Vic